"All of us do not have equal talent, but all of us should have equal opportunity to develop our talent"
This is our best seller for a reason. Relaxed, tailored and ultra-comfortable, you'll love the way you look in this durable, reliable classic. Not only will we donate a portion of your order to charity, but you can also spread the word with this tee!
100% pre-shrunk Cotton
Double-stitched seams at shoulder, sleeve, collar and waist


Sustainable fashion is the future! That's why Taste of Trend is taking steps to make sure we're
part of the movement.
We only produce items we get an order for, avoiding textile waste from overproduction. Our
printing partner's state-of-the-art printing tech creates almost no wastewaters and uses less
energy.
Each product you see in our catalog is made on-demand—once you place an order, we produce
it specifically for you. This allows us to avoid overproduction and textile waste, and we pride
ourselves on being part of the sustainable fashion movement.

The softest and most comfortable t-shirt you will ever own.
Note: Product measurements may vary by up to 2" (5 cm).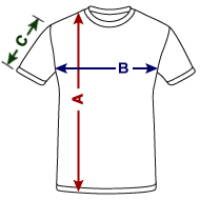 A Length
Place the end of the tape beside the collar at the top of the tee (Highest Point Shoulder). Pull the tape measure to the bottom of the shirt.
B Chest
Measure yourself around the fullest part of your chest. Keep the tape measure horizontal.
C Sleeve length
Place the end of the tape at the center back of the collar, then pull the tape measure along the top seam of the sleeve. When you get to the shoulder hold the tape in place at the shoulder and continue to pull down the sleeve until you reach the hem of the sleeve.
| | A | B | C |
| --- | --- | --- | --- |
| S | 27.99 in | 17.99 in | 7.48 in |
| M | 28.98 in | 19.49 in | 7.48 in |
| L | 30.00 in | 21.97 in | 7.72 in |
| XL | 30.98 in | 23.98 in | 7.72 in |
| 2XL | 31.97 in | 25.98 in | 8.74 in |
| 3XL | 32.48 in | 27.48 in | 8.74 in |
| 4XL | 34.49 in | 28.98 in | 8.74 in |
| 5XL | 35.00 in | 30.98 in | 8.74 in |
| 6XL | 37.48 in | 32.99 in | 8.74 in |
| | A | B | C |
| --- | --- | --- | --- |
| S | 71.1cm | 45.7cm | 19.0cm |
| M | 73.6cm | 49.5cm | 19.0cm |
| L | 76.2cm | 55.8cm | 19.6cm |
| XL | 78.7cm | 60.9cm | 19.6cm |
| 2XL | 81.2cm | 66.0cm | 22.19cm |
| 3XL | 82.5cm | 69.8cm | 22.19cm |
| 4XL | 87.6cm | 73.6cm | 22.19cm |
| 5XL | 88.9cm | 78.7cm | 22.19cm |
| 6XL | 95.2cm | 83.8cm | 22.19cm |